6 Tasks To Tackle before the temperature change August 3, 2017

As the days go by, there are less and less days of summer left. With Labor Day just around the corner you may be planning that epic summer get together for another fun day in the sun. But before you bring out the pool floats and endless chips and salsa, take a break to get some home maintenance prep done for the upcoming season. Turns out that August is the best time to take on maintenance tasks before the temperature change.

Don't worry: We're here to make all those chores as quick and easy on you as possible. With our handy checklist of home maintenance tasks, you can knock 'em out and be back to your barbecues and beach days in no time.

Not to worry: We want to help make those chores something you can get done quick and easy.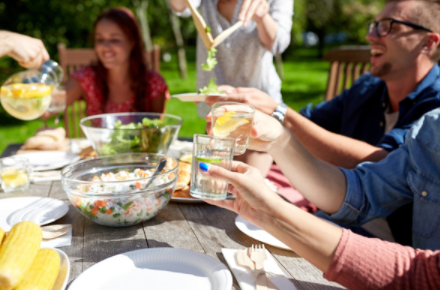 1. Washing Machine: Check the connections
Having the kids home from school for the summer and all the heavy loads of sweaty garments your washing machine had to clean, your poor washer may need a little TLC. Make sure that the water supply hoses that are connected to your machine are in good condition.
"If they are older black rubber hoses, check for any bulging in the hose or any parts that look worn," says Tony Dunaway of BEST Plumbing of Cincinnati.
DIY: If the hoses are worn out, for as little as $25 you can swap them out with replacements but it may take some effort. Once the water is turned off use adjustable pliers and loosen the hose one by one from the water supply and then from the washing machine. Be sure that the new hoses are made of rubber, think about upgrading and replacing the old hoses with rupture-proof, braided stainless-steel hoses.
Call the Professionals:
A professional can save you the effort, but you may be paying around $140 to get the job done.
2. Prune dead wood from the yard
August is the time to clear up those dead twigs and branches from the lawn, according to Tony Smith, president of Nursery Enterprises in Rexburg, ID.
You won't just have a more attractive yard, but "by cleaning them out this summer, you'll create a clean slate—and next summer you'll have a better grasp in understanding your plants' health." Smith says.
DIY: You will need, a saw, pruners and a chainsaw to get this job done.
Call in the professionals: If you're unable to take on a task that involves a chainsaw or just being out in the yard to begin with, find a professional landscape company to take care of it. Depending on the size of your yard, it can cost you between $400-$700 for a licensed tree trimmer.
3. Clean out those gutters
Thunderstorms in the summer can clog up your gutters and lead to water damage that can be expensive to fix. Having gutters function correctly helps keep water away from your home. But debris and gunk still collect around the homes foundation and get into your basement.
DIY: You'll need a latter and garden trowel to effectively clear most debris.
Call in the professionals: Are heights not your thing? On average, it will cost you about $150 to get someone in to do the job for you.
4. Take care of mosquitoes, wasps and other insects
In the late summer, specifically August, wasp activity goes up. So be sure to spray for wasps to get rid of them, as soon as possible.
DIY: "The first step to eliminating a wasp nest is to identify where the colony lives," says Dave Patterson, owner of Tactix Pest Control in Boise, ID. "Scan your lawn, looking for activity close to the ground. Once you find where the wasps are coming and going, apply wasp treatment to the entrance. Repeat this step every few days until you no longer see any activity."
Patterson also recommends patrolling your property for stagnant water, which can be a breeding ground for mosquitoes.
Lastly, check for seals around your home, like doors, windows and vents. Caulk or expanding sealants should be enough to seal these openings, according to Patterson.
Call in the professionals: The national average for wasp removal is between $100-$400.
The price of mosquito control can vary depending on the property size and how often you're getting the treatment done. For a whole summer, this can cost $500 plus. But can get a deal if you get it done later in the season.
5. Clean your natural stone
"After a summer filled with nonstop grilling fests, family gatherings, and just general outdoor fun and wear and tear, it's important to properly clean natural stone around your home—whether it's outdoor granite counter-tops, stone walkways, or patios—to prevent food, dirt, and oil stains from setting in and leaving permanent marks," says James Freeman, chief operating officer of Colonial Marble & Granite.
DIY: Begin dusting the stone surfaces to prevent damage. Stay away from harsh cleaning products on natural stone. Use a gentle cleanser with neutral PH and a soft cloth. For a lasting finish on the stone, use a water-based penetrating sealer.
Call in the professionals: For tough stains, get a professional stone maintenance company to restore the look of your stone. Depending on the level of work that needs to be done, you can spend anywhere from $400- $1,100.
6. Prep the furnace for Winter
"When residential furnaces fail, they typically do so during the coldest days of the year, which is why it's important to have these systems inspected in August, before temperatures drop," says Michael Petri, owner of Petri Plumbing & Heating, in New York City. "An annual tune-up and inspection can help homeowners save money, maintain comfort, and ensure safety when units are turned on for the first time in several months."
Unfortunately, there's no do it yourself tip for this one. Getting your furnace maintained is a job you'll need from a professional. Normally, HVAC companies have specials for this type of maintenance so be on the lookout for deals. If not, look to spend near $130- $450.
I look forward to assisting with your Real Estate needs!
John Castelli, Realtor
(773) 851-7636