Buying a Home? Here's What to Expect at The Signing Appointment October 4, 2017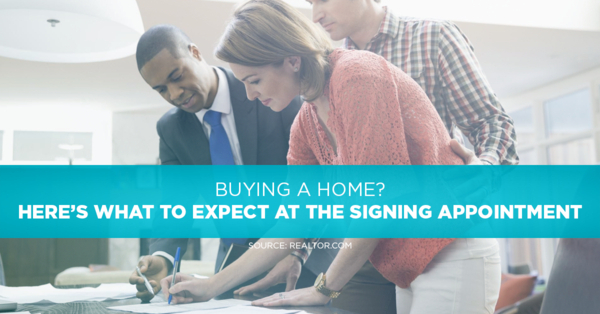 Buying a Home? Here's What to Expect at The Signing Appointment
The signing appointment is exactly what it sounds like — you sit down with a thick stack of documents, review them as needed, and sign your name on the line. When you're done, those documents are sent to the county government, and you're recorded as the property's new owner.
What documents do I need to sign?
It depends on your location, the type of property, the type of loan, and other details. In a nutshell, you'll typically sign these types of documents:
Mortgage/Promissory Note:
The mortgage note is a legal document that outlines the terms of your loan and acts as your written promise to repay it. This document will include the amount of your payments, instructions for repaying your loan, and an explanation of penalties you'll face if you stop paying.
Mortgage or Deed of Trust:
Certain states use mortgages, while others use deeds of trust. They basically perform the same function — to give the lender a lien, or legal claim, on your home in the event that you stop paying back your mortgage loan.
HUD-1 Settlement Statement:
This document explains the details of your loan, including interest rates, monthly payments, and closing costs.
Truth-in-Lending Statement:
The Truth-in-Lending (TIL) Statement shows the total cost of your loan. It will show how many payments you'll make over the life of the loan, your loans Annual Percentage Rate, your payment schedule, and details about early loan repayment. By federal law, your lender is required to provide you with a TIL within three days of receiving your loan application.
Affidavits:
You'll probably sign several affidavits — legal documents in which you swear that certain statements are true. For instance, you may sign an affidavit that you are employed at the time of the home purchase, or that you intend to use the home as your primary residence.
Deed:
This is the document that transfers ownership of the home from the seller to the buyer.
What do I need to bring to the signing appointment?
You should bring government-issued photo ID, as well as a cashier's check to cover your closing costs (unless you've wired the money to the attorney or escrow firm earlier). You should ask the attorney or escrow firm coordinating the transaction if there are any other items or documents you'll need for the appointment.
Will the seller be at the appointment?
It depends on your area. It's common on the east coast for the buyer and seller, along with their agents and attorneys, to have a "round table" signing in which everyone signs documents at once. On the west coast, it's more common for the buyers and sellers to sign documents separately.
Will I get the keys at the signing appointment?
Again, it depends on your area. Ask your agent what to expect and how you'll take possession of the keys.
Source: Realtor.Com
John Castelli, Realtor® | Keller Williams Realty Partners
(773) 851-7636 www.SoldByCastelli.com