Curious What Colors May Help Sell Your Home for More? August 8, 2017




Light Beige, Pale Taupe or Oatmeal-Colored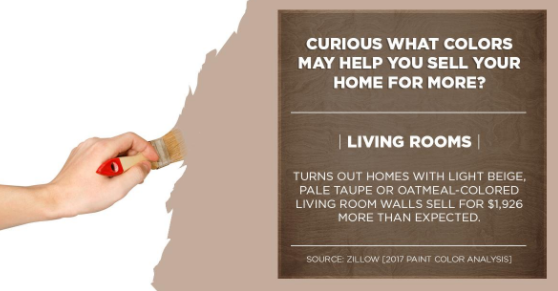 Homes with Light Beige, Pale Taupe or Oatmeal-Colored
Living Room Wall Sell For $1,926
More Than Expected.
I look forward to assisting with your Real Estate needs!
John Castelli, Realtor
(773) 851-7636
The 6 Steps to Staging Your House | John Castelli

Staging your house the right way can help you sell quicker and for more money. Here are a few steps to help you get started …
STEP 1:Mow the lawn and trim the bushes. Curb appeal makes all the difference online and in person.
STEP 2: Pack up anything you don't use everyday. You'll be moving out anyway, so why not get a head-start?
STEP 3: Turn the bedrooms back into bedrooms. Trade out that exercise machine for a bed and a nice duvet.
STEP 4: Declutter the kitchen and bathroom counters. A potential buyer should feel like they're entering a hotel room.
STEP 5: Do a final round of cleanup -- that includes windows. Nicks and gouges in walls should be filled in and painted at this time as well.
STEP 6: Add some color. Now that you've got a blank canvas, you might add some annuals in the front yard, or some folded towels in the bathroom. I
'm happy to share other staging tips that can help. Or if you have other questions, contact me.
773-851-7636
www.JohnCastelli.com