How Does Rent-to-Own Work? August 17, 2017

How Does Rent-to-Own Work?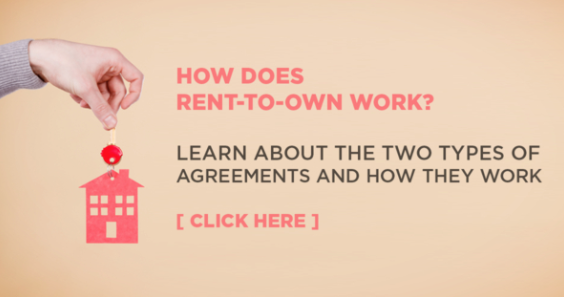 Two Types of Rent-to-Own Agreements
The two main types of rent-to-own agreements are mainly distinguished by their flexibility.
Lease Agreement with Option to Purchase
Ready for some legal stuff? This type of lease requires the tenant to pay an "option fee" for the right to purchase a property at a later date. If they exercise that option, the seller is required to sell the property to the tenant and apply the option fee to the purchase price. If the tenant chooses not to exercise that option, they forfeit the option money.
Option fees are generally a percentage of the purchase price (on average, anywhere from 2 to 7 percent). If a tenant doesn't have the cash on hand, sometimes assets, such as a car, can be used instead.
Lease Agreement with Purchase Agreement
The second agreement is a lease plus a purchase agreement. Both parties agree on a fixed purchase price, or agree the purchase price will be determined with a future appraisal, as well as the future closing date. Everything's set from the beginning.
How should you decide between a fixed price or a future appraisal price? Well, it depends on the market. In a rising market, a fixed price will allow you to have equity in the home even before making the purchase. In all other market conditions, an appraisal at the time of purchase will ensure you don't pay over market value.
Here's another tip: If you have credit repair work that needs to be completed, or if your financing is still a question mark, push for a closing date at least 12 months in the future.
I look forward to assisting with your Real Estate needs!
Schedule a call to learn more (773) 851-7636
John Castelli, Realtor
There are many reasons why you should consider home ownership instead of renting.
Unlike rent, fixed mortgage rates don't rise and homeowners can deduct eligible expenses on taxes that renters cannot.
Also keep in mind that if you are renting, you are still paying a mortgage. It just happens to be your landlord's mortgage and not your own.

Why keep paying your landlord's mortgage? You would be surprised at how much house you can afford for what you are paying in rent right now.
Call me today at (773) 851-7636 and let's find out what you can qualify for!