March 2017 Market Update
Home sales accelerated this January, reaching the highest levels seen in nearly a decade according to the National Association of REALTORS®. Despite expectations of rising interest rates, depleted inventory, and affordability concerns in many areas, home buyers remained resilient.
Interest Rates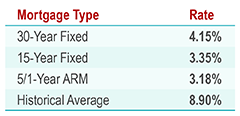 According to Freddie Mac, 30-year fixed rates ticked back down from 4.19 percent to 4.15 percent. While the Federal Reserve and other financial institutions continue to make adjustments cautiously, there is an expectation among investors and economists that rates will soon increase again.

Home Sales
The National Association of REALTORS® reported home sales at a seasonally adjusted annual rate of approximately 5.69 million homes during the month of January. This was an increase of 3.3 percent from December, and an increase of 4.0 percent from January of last year.
Home Prices
The median home price decreased to $228,900 in January, which was down 1.9 percent from December and up 7.1 percent from January of last year. The median home price has increased by approximately $15,200 in the past year alone.
Inventory

There was a 3.6-month supply of housing inventory in January, which was the same as December. The total number of homes for sale decreased by 10 percent compared to January of last year.
Brought to you by KW Research. For additional graphs and details, please see the This Month in Real Estate PowerPoint Report.The opinions expressed in This Month in Real Estate are intended to supplement opinions on real estate expressed by local and national media, local real estate agents and other expert sources. You should not treat any opinion expressed on This Month in Real Estate as a specific inducement to make a particular investment or follow a particular strategy, but only as an expression of opinion. Keller Williams Realty, Inc., does not guarantee and is not responsible for the accuracy or completeness of information, and provides said information without warranties of any kind. All information presented herein is intended and should be used for educational purposes only. Nothing herein should be construed as investment advice. You should always conduct your own research and due diligence and obtain professional advice before making any investment decision. All investments involve some degree of risk. Keller Williams Realty, Inc., will not be liable for any loss or damage caused by your reliance on information contained in This Month in Real Estate.

www.SoldByCastelli.com
Copyright 2016 Keller Williams® Realty, Inc. If you have a brokerage relationship with another agency, this is not intended as a solicitation. All information deemed reliable but not guaranteed. Equal Opportunity Housing Provider. Each office is independently owned and operated.