READY TO FLIP A HOUSE? August 29, 2017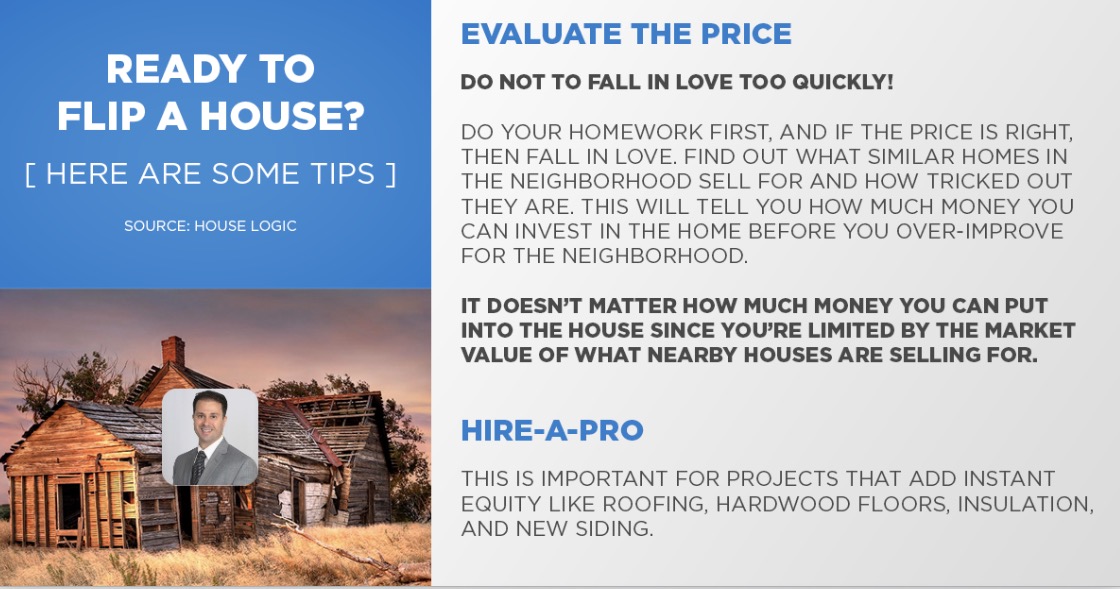 EVALUATE THE PRICE
DO NOT FALL IN LOVE TOO QUICKLY!
DO YOUR HOMEWORK FIRST AND IF THE PRICE IS RIGHT, THEN FALL IN LOVE.
FIND OUT WHAT SIMILAR HOMES IN THE NEIGHBORHOOD SELL FOR AND HOW TRICKED OUT THEY ARE.
THIS WILL TELL YOU HOW MUCH MONEY YOU CAN INVEST IN THE HOME BEFORE YOU OVER-IMPROVE FOR THE NEIGHBORHOOD.
IT DOESN'T MATTER HOW MUCH MONEY YOU CAN PUT INTO THE HOUSE
SINCE YOU'RE LIMITED BY THE MARKET VALUE OF WHAT NEARBY HOUSES ARE SELLING FOR.
HIRE-A-PRO
THIS IS IMPORTANT FOR PROJECTS THAT ADD INSTANT EQUITY
LIKE ROOFING, HARDWOOD FLOORS, INSULATION, AND NEW SIDING.
I look forward to assisting with your Real Estate needs!
John Castelli, Realtor
(773) 851-7636
Looking to build a passive income stream?
Consider this: while mortgage payments can remain fixed throughout the life of the loan, rents are subject to increase every year.
That means your costs can remain the same while your passive income can go up.
It's no wonder so many millionaires started by investing in real estate.