Top Reasons to Hire a Real Estate Agent August 7, 2017

Top Reasons to Hire a Real Estate Agent When Buying or Selling!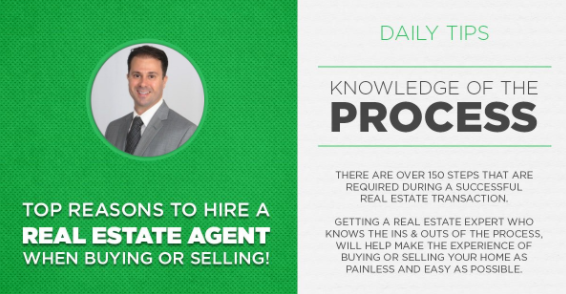 Ask me any questions in real estate transactions. There is an reason why people call me an Real Estate Expert!
Step 1 in the buying process begins with the agent and buyer reviewing the current market conditions as well as what the buyer wants and needs in their new home.
Step 2 is getting pre-approved or a loan to know how much the buyer can spend.
Step 3 involves narrowing the search so the buyer is only looking at houses that meet their criteria.
When the buyer is ready to make an offer, that's when step 4 comes in. The agent helps negotiate the price and terms so the buyer gets the best deal possible.
Getting the home inspected is the fifth step.
The final step is the closing. That's when the buyer takes possession of the house.
Just about any agent can put your home on the MLS. But when you work with me, your listing will be syndicated to over 500 sites, including Zillow, Trulia, Frontdoor, Yahoo Real Estate, Homes.com, Homefinder, RealtyTrac and many more. That's a big deal, since over 90 percent of all buyers start their search on the internet. If you're looking to sell your house for more money in less time, maximum exposure can make all the difference.
I look forward to assisting with your Real Estate needs!
John Castelli, Realtor