What are Comps? July 12, 2018

Whether you're buying or selling a home, comparing similar homes can yield a wealth of helpful information.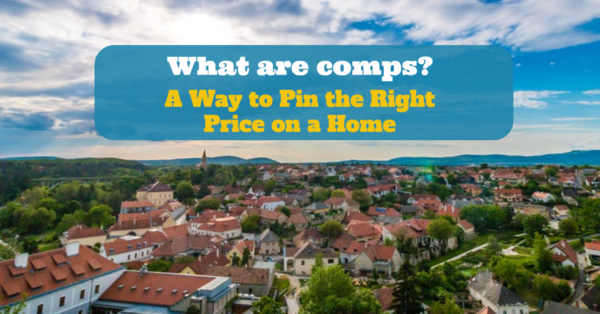 "Comps," or comparable sales, is a term anyone on either side of a real estate transaction should know well. It refers to homes located in the same area and very similar in size, condition and features as the home you are trying to buy or sell.
Buyers look at comps when deciding what price to offer on a home, and sellers use them to figure out how to best price their home for the market. Real estate agents look at comps all day long as a way to keep on top of their local market. If you are a buyer or seller, it's helpful to have a strategy to analyze comps, because all comps aren't created equal.
Location is the highest priority
If you are trying to price a home or figure out its value, you need to look nearby. The market is based on location, so keeping as close to the subject property as possible — meaning, within the same neighborhood — is the most effective approach.
If you can't get enough comps nearby, it's fine to keep expanding out. But there will always be a boundary, like a school district, that you need to stay within.
Timeframe matters
The best comps are homes that are currently "pending." Why? Because a pending home is a piece of live market data. A pending home means that a buyer and seller made a deal, and that deal will reflect the most up-to-the-minute stats on the market.
A good local real estate agent, leveraging her network, can get a fairly accurate idea what the ultimate sale price or range is for a pending deal. Try to stick with sales in the past three months, and never go more than six months, because older data is not reflective of the current market.
Factor in home features
Once you have location and timeframe, it is key to look for homes with similar features that have sold, as opposed to comparing price per square feet. While the latter is helpful, it won't consider factors like views, a new designer kitchen or a finished basement vs. unfinished.
If you have all three bedrooms on the top floor, look for something similar. Try to compare your subject property to like properties when it comes to traits like total size, the number of bedrooms and bathrooms, and the size of the lot. You can make adjustments once you have found similar homes.
Don't over-analyze the comps
Putting your trust in a good local agent will keep you from agonizing over the petty details of each comparable home. Your agent is likely familiar with some of the recent sales, and can help shed light on why one comp fares better than another. You may not know that one home was next to a fire station or across from a parking lot, or that another didn't have a real backyard, but your agent will. These small nuances will affect the home's value.
AgentProLink
John Castelli, Realtor
(773) 851-7636