What's Likely Happen To The Real Estate Market After Labor Day? August 30, 2018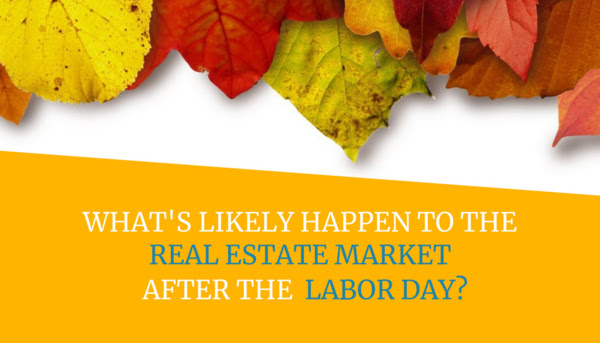 The time between Labor Day and Thanksgiving, unofficially known as fall, is prime time for enjoying the great outdoors. And while there's no substitute for spending time in natural green spaces, if you're in the market for a house, fall weather presents an ideal backdrop for strolling through potential neighborhoods and checking out real estate for sale.
While some home seekers might throw in the towel after Labor Day and wait until spring to begin a new search, others will find some definite advantages to starting their home pursuit in September.
Find out how the market changes after Labor Day and what makes it a pivotal day for the real estate industry.
1. Fall real estate can be more of a buyer's market
A buyer's market means you, as a buyer, are in the driver's seat. That's good news if you're home-hunting in the fall: There are typically fewer buyers after Labor Day. This, of course, is dependent upon local market cycles. But typically, families need to be settled into a home by the start of the school year. And the date school starts can't be moved. This results in plenty of 'fun' conversations between spouses, as there's no negotiating when they need to be in the house.
But if you don't have school-age kids, the school year doesn't matter and you can take advantage of this. You might find that competition is down for homes after Labor Day, meaning you're probably in a buyer's market. And this is significant because we have less competition and the market is slower.
2. Vacation-home sellers see action
Summertime is prime vacation season. Even Congress breaks for the entire month of August. After you've had a particularly lovely time at your summer getaway spot, you might consider buying a place in the area and going back every year. If you start looking for a vacation home in the fall, you can have it purchased and furnished by spring. By purchasing in the fall, you can see what the area has to offer in the off-season.
Winter is also a popular vacation time, particularly for skiers and people who love ice-skating and snow tubing. If you buy at a ski resort in the fall, you can enjoy the resort yourself or earn some serious dollars renting the place to winter-wonderland enthusiasts.
3. Home prices, like leaves, fall
Many people list their home for sale during what they think will be the best time to sell: summer. And it often is. But not everyone is successful. When a property hasn't sold by Labor Day, sellers will reevaluate asking prices, creating greater room for negotiation.
4. There's no deadline for most fall home buyers
When you've picked a certain neighborhood because of the school district for your kids, it's imperative that you are actually in your home before school begins. But if the first day of school is not your concern, you don't really have a deadline. You might want to be in a home before the holidays, but the stakes aren't as high if you aren't.
John Castelli, Realtor
(773) 851-7636
https://johncastelli.agentprolink.com/open/share/gallery/article/2259?v=201808301402