Why are home sales falling? October 22, 2018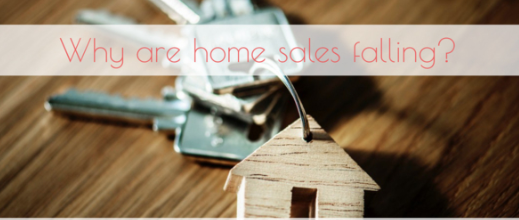 Home sales should be surging. The economy is booming and more people are earning good-sized paychecks again. Millennials are starting to settle down and have children, so they need more space. And the crazy price gains of the last few years are beginning to slow down, with more homes making their way onto the market. So why is the number of home sales across the country falling?
In September, sales of existing (previously lived in) homes dropped 4.1% compared with the previous year, according to the seasonally adjusted numbers in the most recent National Association of Realtors® report. The 5.15 million sales were also down 3.4% from August. That's the fewest number of existing homes sold since November 2015.
Now, sales usually drop off a bit in September after the frenzied summer months, when families want to buy a home and settle in before the kids start school. But this drop off is comparing September 2018 with September 2017.
Part of the reason for the decline is prices. While the rate of price increases is beginning to slow, prices aren't coming down in most parts of the country, at least not yet. The median price of an existing home rose to $258,100 in September—the 79th straight month of annual increases. That's up 4.2% from September 2017. And the cost of becoming a homeowner or trading up is simply too high for many would-be buyers.
At the same time, mortgage interest rates have also been on the rise, which makes purchasing a home even more expensive. They climbed to 4.72% at the end of September—up from 3.83% a year earlier.
As a result of these changes, sellers will find it takes longer to sell their homes and buyers will have more choices in the market.
John Castelli
(773) 851-7636
https://johncastelli.agentprolink.com/open/share/gallery/article/2367?v=201810221414